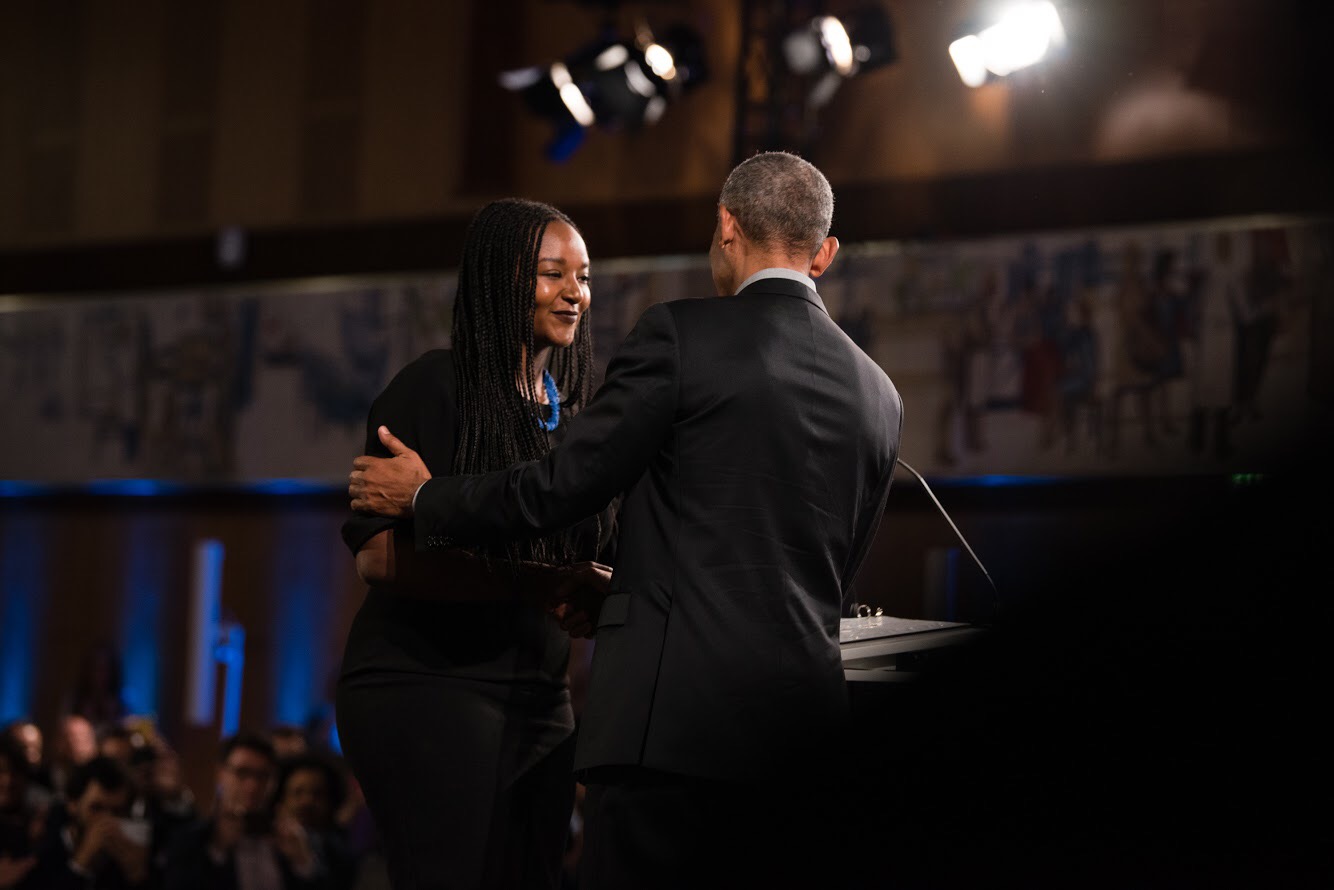 Foto Credit: The Obama Foundation
Hier berichten die Kieler Nachrichten, hier der SHZ, hier die Berliner Morgenpost, hier der Tagesspiegel, hier die WELT, hier der FAZ und hier noch einmal der SHZ.
Was für eine Ehre! Heute durfte ich niemand Geringeres als Barack Obama auf der Bühne begrüßen. Hier könnt ihr euch die Eröffnungsrede ansehen. Vor über 300 young leaders aus ganz Europa habe ich über meine Geschichte gesprochen, wie wichtig es ist, dass wir jungen Europäer*innen zusammenarbeiten und darüber wie Barack Obama mich inspiriert hat selbst Politik zu machen.
Hier ein Auszug meiner Rede auf deutsch. Unten die gesamte Rede auf Englisch:
"Ich bin in einer Unterkunft für Geflüchtete in Neumünster aufgewachsen und habe mitbekommen, wie Politiker*innen Entscheidungen für eine Gruppe treffen, ohne zu wissen, wie es sich anfühlt, von diesen Entscheidungen und Gesetzen betroffen zu sein.
Daraufhin habe ich mich gefragt, wie unseren Stimmen Gehör verschafft werden kann. "Könnte jemand wie ich sogar für ein politisches Amt kandidieren?"
Mich hat ermutigt, dass es auf der anderen Seite des Atlantiks jemand gab, der eine Bewegung in Gang gesetzt hat. Er hat Menschen jeglichen Hintergrunds inspiriert, eine aktive Rolle in der Politik einzunehmen. Er war ein Vorbild, das mir deutlich machte, wenn ich die Zukunft mitgestalten möchte, dann kann ich niemand anderes für mich sprechen lassen.
Es ist eine große Ehre für mich, den 44. Präsidenten der Vereinigten Staaten begrüßen zu dürfen – Präsident Barack Obama."
Gesamte Rede auf Englisch:
"Good afternoon! My Name is Aminata Touré. We are all here today to talk about our future and the future of Europe.
As young people we control our destiny. While there are many challenges and opportunities ahead, we know that our generation owns the solutions our world needs.
I learned early on that representation matters.
I grew up in a refugee camp, here in Germany, listening to politicians making decisions for an entire population without knowing how it feels to be impacted by these circumstances and laws.
I would ask myself, how will our voices be represented? "Could someone like me even run for office?"
What encouraged me was that there was someone on the other side of the Atlantic who was starting a movement.
He was inspiring people from all backgrounds to take part in the political system.
He was a role model who told me that if I wanted to shape the future, I couldn't let someone else speak for me.
Politics is something that we all own, it's for everyone. So I decided to run.
Two years ago, at the age of 24, I became the youngest and the first black member of my state government, the Schleswig-Holstein parliament.
It took hard work, the support of family and friends, and believing that my opinions had value, and that I could make a difference. Most people in politics are older than me. Some double my age.
They often don't see policy issues the same way our generation does.
Outside the halls of Parliament I am surrounded by peers who care deeply about our shared future.
We're finding new solutions to climate change, promoting equal rights for all, and advancing economic opportunity through new industries.
It's not just in Germany, young people across Europe and the world are connecting, taking action, and making change.
It's our generation's collective passion that makes me feel strong and confident. The future is bright, but only if we encourage each other and fight for it together.
Today I am excited to welcome to Berlin someone who has inspired people all over the world to make their voices heard and get involved.
He gave me courage when there was no one that looked like me running for office in my state.
And through his work with the Obama Foundation, he is still bringing together young people who are determined to make a positive difference and is helping us have our voices heard on the mainstage.
It is an honor for me to introduce the 44th President of the United States – President Barack Obama."